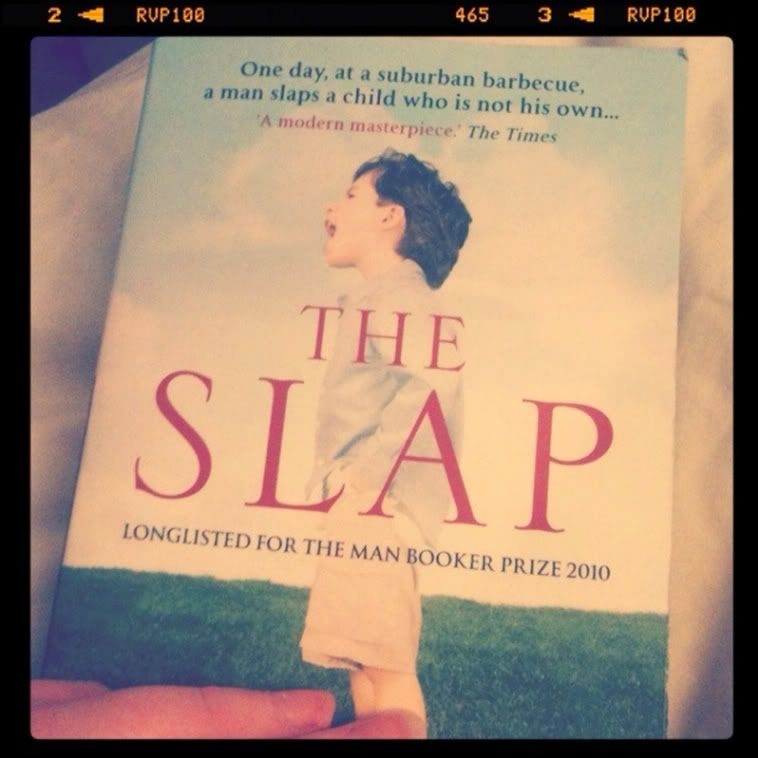 If your easily offended, I don't recommend this book. If you don't like swearing, definitely do not read this book (the words you encounter from the first page will turn you green). The Slap takes modern Australian society and dissects it into it's most intimate form.
At a Suburban BBQ a man slaps a child who is not his own, this is how the novel begins. The lives of eight characters who are present at the BBQ are then explored chapter by chapter. Not only in relation to their feelings about what happened at the BBQ but in relation to their own startling and somewhat overwhelming personal issues.
I liked this book, I read it quickly and enjoyed each character and their personal revelations. But every time I put the book down I wanted to reassure myself; this isn't the society I live in, people aren't this miserable. I felt overwhelmed by the number of issues this book raised; adultery, abortion, religion, race, gender, parenthood, careers, age, politics, drugs, sexuality - to name a few. Am I just naive to the "real world" or was Tsiolkas attempting to open my eyes to these issues by making them so confronting?
"What I hope is that a reader of
The Slap
comes away trying to understand some of this complexity, whether it comes to questions of race and culture, to questions of gender and sex, or to attitudes to younger or older generations. But you can't lead a reader to any conclusion.
" - Christos Tsiolkas*
I finished the book wanting to know more - what was the intended purpose of this book? Had the Slap had the effect on me that Tsiolkas was hoping for? I know it made me want to have a less judgemental approach to life. To put myself in other peoples shoes more often and to be more open in my opinions and beliefs. Once again this is why I love book club as this is never a book I would have choose myself but have loved reading something different.
If you want to be challenged, to have your opinions questioned, to see things in a different light then this is the book for you. If you have read this book or are thinking of reading it I would love to hear from you.
On a side note if y
ou are interested tomorrow I am going to be on Millionaire Hotseat tomorrow at 5.25pm on channel nine. Will write more after the show has aired.
*
Quote taken from an interview with Angela Myer. Full interview available here.