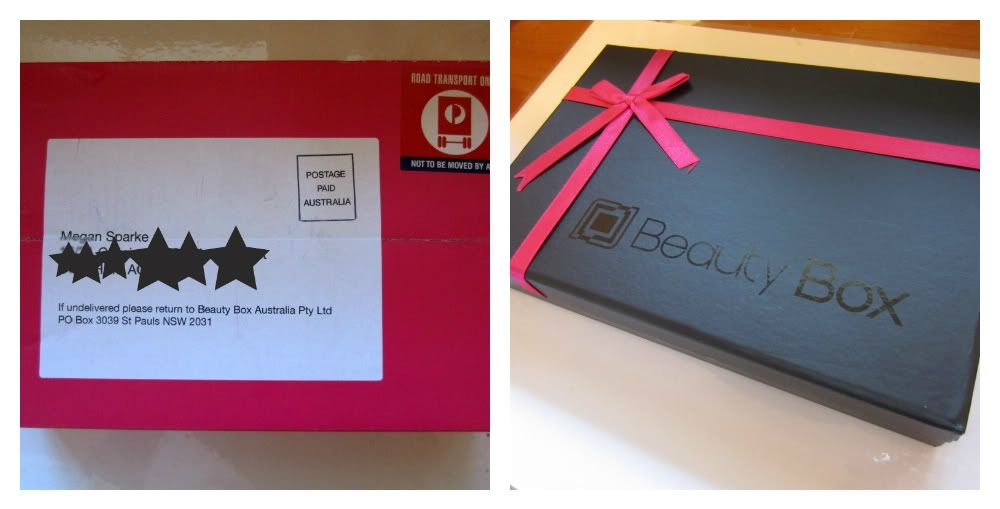 I have been waiting with baited breath for make up sample boxes to hit Australia and yesterday I received my first one from
Beauty Box
. I am not a make up expert at all but I thought I would share the first one in case there were people thinking of signing up and wanting a little more info. My make up routine is very simple and I am quite loyal to products that I know work for me so I signed up to this as a treat once a month and to try and shake things up a little.
Beauty box is $15 per month and you receive between 4 to 5 samples. This box included:
-
YSL: Beauty Sleep
- Marc Jacobs: Oh! Lola! (three little sample bottles were included)
- Sally Hansen: nail file
- Playboy Spicy Body Spray
- Shu Uemura: Cleansing Oil.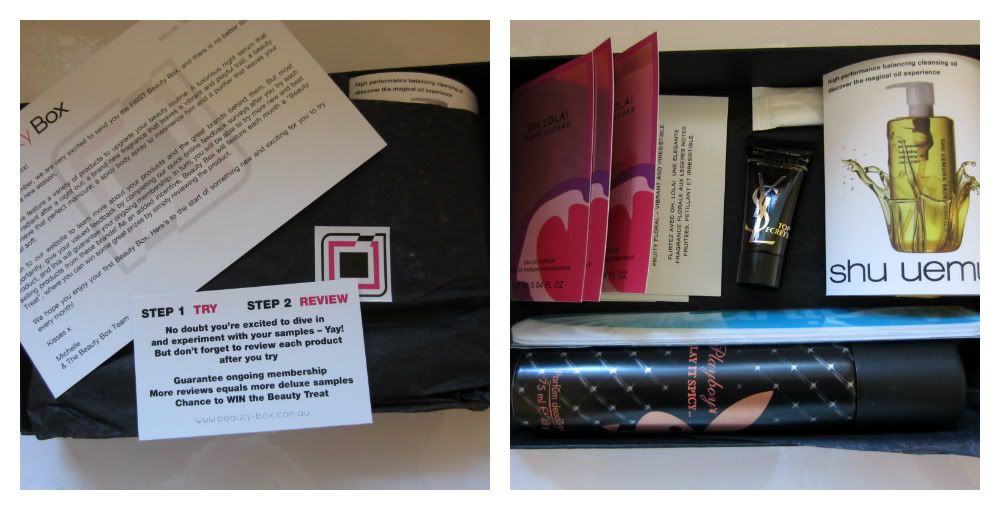 Unsurprisingly the perfume is just lovely. I am planning on using the little sample sizes for travel and would definitely consider buying the regular size. The body spray smells nice as well and is a brand I wouldn't usually think about buying. I probably wont buy it again as I am not really a body spray person, I usually stick with deodorant and perfume. But if you do like body spray I wouldn't pass by this one.
I put the night cream on after my shower and the fragrance was a little overpowering for my likings and the consistency was a little watery. There was really only enough in the bottle for one use so not sure if I will be able to squeeze enough out for another try.
The
stand out
in this box was the cleansing oil, it was the most delightful product I have ever put on my skin. It smells delicious and is so soft and smooth. My skin felt lovely after using it and I am looking forward to using it again tomorrow. It retails for $105 for 450mls which is way more than I would usually spend on a cleanser but depending on how my skin is after the sample is gone I would consider buying it.
I won't be using the nail file, as filing my nails makes my skin crawl, does anyone else get that?
There has been a little controversy over the card that came with the box saying that you must review the product to ensure continued membership. I personally think the review is a great idea, but making it mandatory to continue receiving the box is a little excessive when were paying to receive the product.
Apart from that I am really happy with the box and looking forward to receiving it again next month.
Have you signed up for anything like this? What are your thoughts?
By the way the winner of the
giveaway
was lucky number 9, Micaela!!! Congrats lady! Thanks so much to everyone who entered.