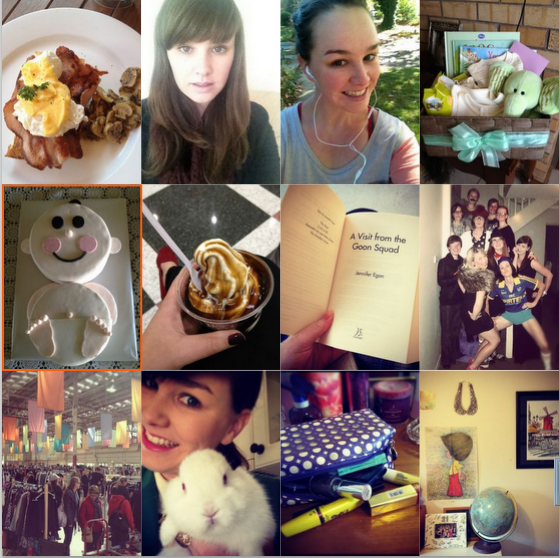 ♥

yummy breakfast // long hair // workout time // baby shower present // baby shower cake // ice-cream sundae // reading // murder mystery party // vintage markets // betsey the rabbit // makeup // pretty wall

♥
Oh wow I have not done one of these posts for ages, I can never stick to any sort of posting schedule. Anywhoo here is a quick little update on things happening in my world, what is happening in yours?
Reading...

'A visit from the Goon Squad'
Watching... Girls - anyone else addicted to this show? I thought I might not like it but I love its rawness.
Talking...

to Brendan about not wanting to watch a show about fishing.
Thinking... that I have so much laundry to do!! I am down to the uncomfy underwear that only gets worn in emergencies like this.
Buying...

possibly a top that I have been trying to hunt down for weeks, thank you ebay!
Planning...

a trip to Terrigal in July, we booked a mystery hotel and ended up with something amazing very happy and excited.
Wearing...

gym clothes after an abs class and time on cross trainer.
Craving...

mushrooms - I cannot get enough at the moment, addicted!
Loving... that I have zero plans this weekend! Time to get organised and relax.
Thank you so much for your nice comments on my last post its nice to know I am not the only one who worries about these things!