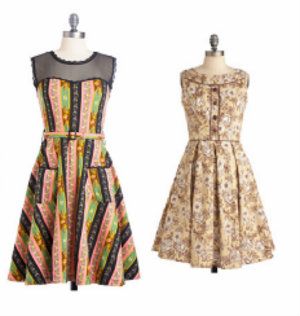 As you probably know, from reading this blog, I am a little bit of a shopaholic! I thought that it might be a good idea to start sharing some of my shopping tips, favourite stores and other fun shopping related tidbits with you. Right now is a great time to start buying clothes for spring and summer from stores in the Northern Hemisphere as they are going to start putting their summer stock on sale (and vice versa for stores down here).
Love clothing
currently has 50% off for the next 48 hours which is a really great deal! I ended up picking up the first two dresses above which have been in my shopping bag since December.They also have free shipping to Aus if you spenf over 30 pounds.
Topshop
currently has free world wide shipping until Sunday 12pm. I have my eye on the handbag above!
Modcloth
has lots of gorgeous summer dresses that are now on sale. I have a few in my wishlist but especially love the last two dresses posted above.
Looking for something vintage? The lovely store
Fancy Treehouse
has 50% off this weekend with the code AUGUST. Plus if you spend over $150 shipping is free!
Have you heard of any good deals that are happening at the moment, I am always happy to be tempted!