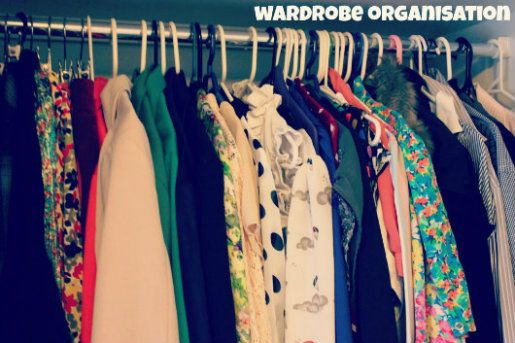 My wardrobe was getting a little insane and by a little I kind of mean a lot. Things weren't organised, I couldn't find things, I was avoiding washing tricky pieces (lace, wool all those fun fabrics) and overall I just wasn't happy with the way things were. So I decided to take action and over the last two weeks have cleaned out and cleaned up all my clothes. I thought I would share some of the things that I found helpful in case anyone else was planning a clean out with the changing of the seasons. Here is what I did....
1. Wash all your dirty clothes so you know what your working with. There is no use cleaning out your wardrobe to find 3 loads of washing that haven't been included in the process.
2. Once everything is clean and dry start taking things out of your wardrobe creating four piles: donate, throw away, keep and keep but needs repairs. Personally I didn't keep anything I haven't worn in the last 12 months but you should choose a period of time that suits your lifestyle and climate. I also didn't keep anything that didn't fit or was really worn out and tatty.
3. Put the throw away and donate piles into garbage bags and move to another room - once you have made the decision to get rid of the clothes it is best to get them out of sight!
4. Now if you are like me you have more clothes than wardrobe space, so I than sorted my keeping pile into another two separate piles - winter/autumn and summer/spring. Of course some clothes can be worn all year round so I put them in my spring/summer pile to make sure they went back into the wardrobe.
5. I than packed away the majority of my Autumn/Winter clothes realising that we wont really be getting spring weather until mid October and I would still need a few layers. At the end of October I will get my coats and so forth dry cleaned before storing away for next year.
6. Now it is time to start putting things back into the wardrobe. This part is really personal preference and depends on your available space. Due to limited hanging space I only hung up dresses, blouses, blazers and maxi skirts. I hung these together in colour groups.
7. I folded into shelves and draws t shirts, short skirts, shorts, cardigans, pants, jumpers and gym clothes. If I had more hanging space I would hang my cardigans and jumpers.
8. I highly recommend as soon as you put everything back into your wardrobe doing a trip to the opshop to drop off your donatable clothes, throw out your clothes that cannot be donated and make a trip to your tailor/ cobbler. There is no point cleaning out your wardrobe if you are going to be stuck with three piles of things that need to be dealt with later - get it all done in one go you will feel so much better!! Or have a night sewing on buttons, ironing whatever needs to be done to get everything back in your cupboard ASAP.
Next thing I am moving onto is jewellery, bags and so forth - that is a job for next weekend!