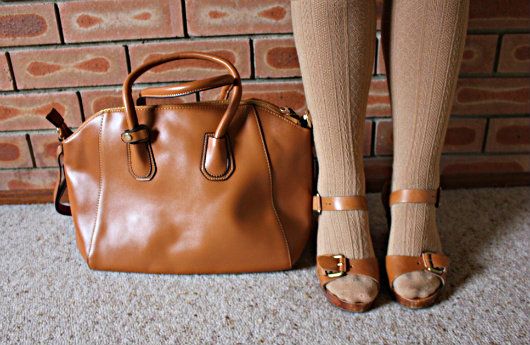 shoes: sportsgirl // socks: forever new // dress: forever 21 // wool cardigan: sunnygirl //navy cardigan: cocolatte // bag: oasap
Spring is the most unpredictable season - one minute its hot the next its cold and than its raining. I personally find layers more useful in Spring than probably winter - at least in winter you just know you are going to be cold. Not that I am complaining I am loving the warm days mixed among the chillier ones.
I ordered this new handbag from Oasap. I joined their Fashion Hunter program* so was gifted with a $30 voucher which I put towards this handbag. I thought the tan colour would be perfect for Summer and the bowler bag shape provides a great size bag - it easily fits in all my usual junk as well as my iPad and a cardigan for when the weather changes. The site has lots of good affordable on trend pieces and I will definitely be shopping there again.
The only flaw I can report on was the shipping which took nearly three weeks from the time of order but I am not sure if the package got held up in customs as it was in Australia Post packaging when it arrived.
*Opinions on this product are entirely my own - I have not been paid to have a specific opinion on Oasap or their products.