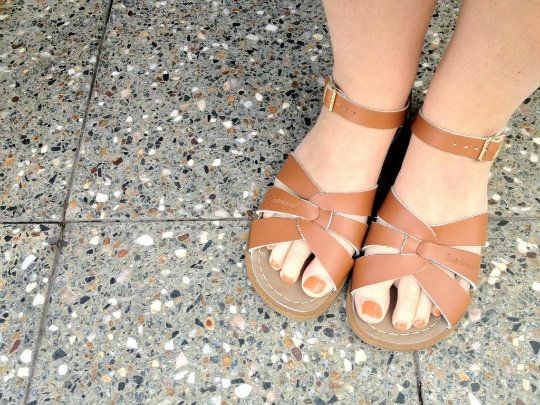 This year Brendan and I are really trying hard to save for a house and an overseas holiday. This means that there is a lot less money available for clothes, shoes and other accessories. To combat this I am drawing inspiration from people like Vanisha and Rachel who are both on similar missions to make timeless wardrobes, concentrating on quality over quantity.
Since I am going to have a much smaller budget for clothes I really want to make sure I invest in versatile, high quality pieces and I really and to support local buisness. Overall I want to think more about my purchases rather then buying on a whim (I cant promise that the shopping bug wont bite every once and awhile though). So I would love to share with you, the good buys I make this year and hopefully not too many bad ones.
My first 'good buy' was these saltwater sandals which I have had on my wishlist for over 6 months. I went for the tan color because it is really versatile and goes with virtually my whole wardrobe. Some people buy staple colours of clothing and then bright accessories but I think I am the other way round - bright clothes and tamer accessories.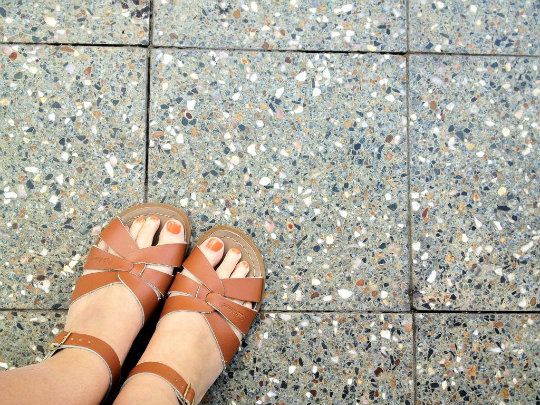 These shoes are so comfortable - I have literally worn these every day and they were comfortable from the first moment I put them on - which is rare, no need to break them in. I have worn them on the beach and down to the river and a good shake gets the sand out and they clean really easily. Plus these babies are made of leather so you don't get that lovely summer sweaty shoe smell.
I was a bit worried about buying these online as I always have the worst luck with sizing when I buy shoes online. However Hayley from Lady Pinwheel was super helpful - apparently you need to size down for Salties and the smaller size fits me like a glove.
I definitely recommend a pair of salties if you want some durable sandals for the Summer and they have lots of fun colours so go crazy and be braver then me! Have you got a pair of salties or is there another sandal brand you would recommend?