I am really excited to introduce a new series on the blog which will give us a sneak peek at other bloggers wardrobes. I am a little bit of a stickybeak so love getting little glimpses of other peoples lives that usually remain behind closed doors (literally).
My first guest is the lovely Teresa of Bess Georgette. Teresa curates a whimsical vintage online store and also works as a freelance graphic designer. Her own wardrobe reflects a deep love of all things vintage and is made up of one of a kind pieces. Without further ado it is over to Teresa to give us a glimpse at her wardrobe.
...............................
Being a vintage collector and seller you would think my wardrobe is overflowing. I admit in the past it has been but over the years (and after a few big move related clean outs) I have become pickier and pickier about what gets to stay in there. Although… this may be made slightly easier because my Bess Georgette store wardrobe is filled to the brim! ;)
Sure, there are items of vintage I collect and I very rarely wear but they have their own 'special' wardrobe and I thought I'd focus on the wardrobe I do wear.
Along with my wardrobe contents my style has also changed over the years. Back in my school days you'd be lucky to see me in a skirt and these days I'm the complete opposite. Now, you will very rarely see me in a pair of pants! This probably is related to my love for full 1950-60s dresses and skirts and I'm also quite fond of the longer 1970s midi skirts.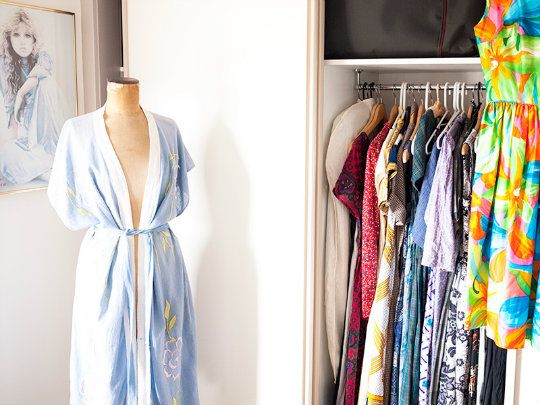 I have a few favourite 1950s and 60s dresses which I adore and wear regularly. I find the sleeveless ones are more versatile for layering and wearing across different seasons. Just by adding a pretty blouse or a skivvy underneath a sleeveless dress, or wearing a cardigan or jumper over the top can create more outfit choices! Plus, with the unpredictability of Australian weather, having the option to layer up or down is a huge plus!
Working from home though I don't wear these dresses about the house and my every day wear is more a mix of tshirts, vintage blouses and skirts. I think it's safe to say this is my uniform!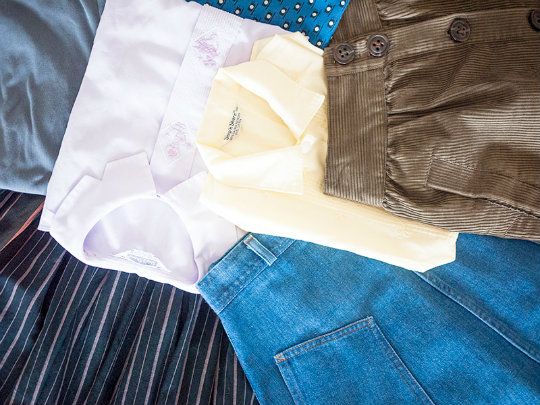 How about you? How's your wardrobe looking?