For someone who is not the best cook summer is a godsend because you can rely on a good salad to see you through and even I can manage a decent salad. Lately I have been trying a few different recipes and especially experimenting with using fruit in my salads. Below are three of my favourite recipes, I am hoping to share more during the following months.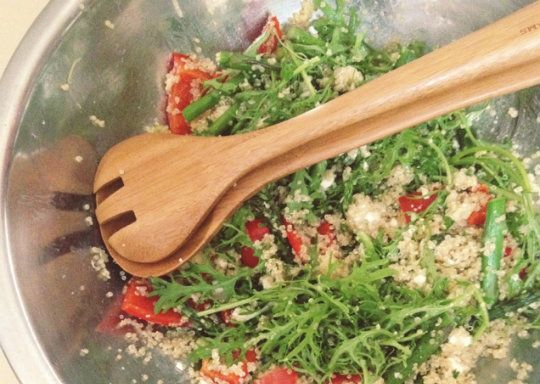 I am finally on the quinoa band wagon and thank goodness because it seems to be everywhere! If you have never cooked quinoa it is so easy - easier then rice, I just followed the instructions in this recipe. This is a really yummy and easy recipe. I made a batch on Sunday night and had enough for lunch for five days so is a great lunch idea to take to work. The only changes I have made since first finding the receipe is cherry tomatoes instead of rocket and shaved almonds instead of sunflower seeds.
This recipe came about on Saturday when Brendan went to buy steak for dinner and came back with a 7kg watermelon. Not wanting to waste a morsel of that humongous watermelon I quickly goggled watermelon salad and came up with baby. Apparently watermelon and feta is a common combination in Italy and I have to say they are doing something right - this recipe is tasty and refreshing!! I added rocket to this recipe to beef it up a little bit and add some colour.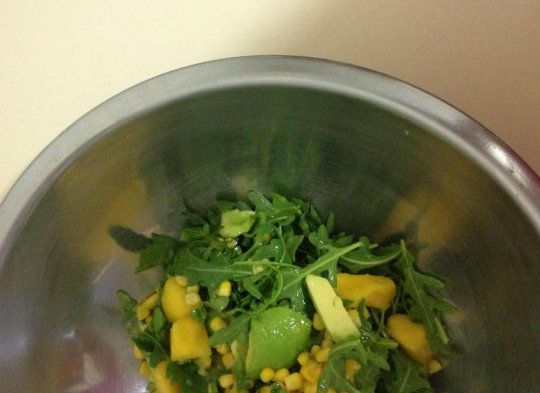 This is my favourite salad because it combines three of my fave things - mango, avocado and corn! Yum. I really don't have much to say about this salad except that I would have it as a side to dinner every night if I could, I just wish mango season lasted a little longer. I used this
recipe
and added a can of sweet corn. I recommend this with fish or chicken, so summer.
I would love links to your favorite salads?!