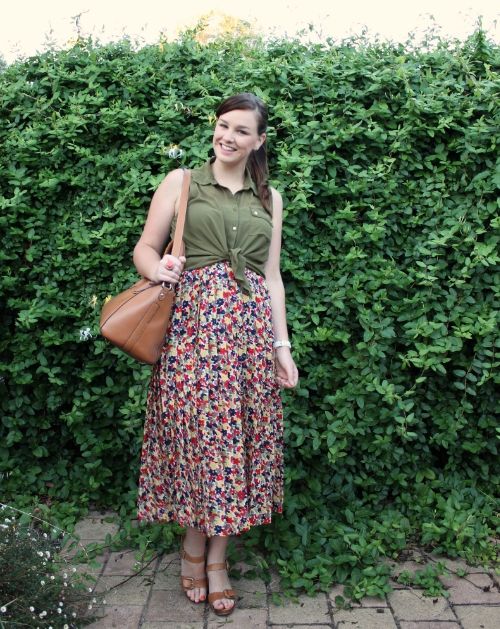 shoes: sportsgirl // skirt : vintage // bag: oasap // top : ally
I have loads of pleated vintage skirts - I love wearing them but often find myself wearing them the same way every time - a slim fitting top, a statement belt and high heels, see here for an
example
. I find that a pleated skirt on my hips is not flattering for my shape so I always wear them on my waist. I also prefer a mid length skirt with high heels as the skirt length can give the impression of shorter legs.
Wearing a slim fitting top with a statement belt accentuates my waist so I knew that if I wanted to try something different I still needed to make my waist the focus point. Plus I wasn't willing to give up a little heel. A different top and losing the belt seemed like the easiest option. This top is a lot more billowy then I would usually wear with a pleated skirt so I tied it at the waist which created the same effect as my belt usually does.
Whilst my pear shape body type requires pleated skirts to be worn on my waist if you have a more petite shape pleated skirts look fabulous on your hips. I found this
pinterest board
that has given me a lot more inspiration for shaking up how I wear my pleated skirts.
What is your favourite way to wear a pleated skirt?