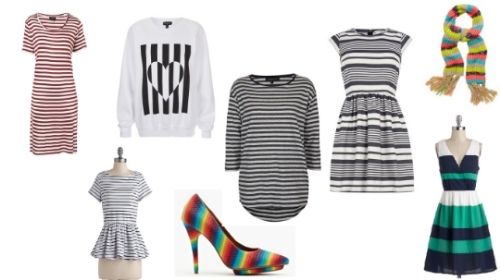 In Spring I sent out the request for bloggers/ readers to send me photos of their favourite outfits that incorporated a floral piece. That was so much fun and I loved seeing everyone's photos so of course would love to put together another lookbook with the theme of stripes!
I would love if you could email me a photo of an outfit showing off how you rock stripes. It can be something you have already worn that you have a photo of or an entirely new outfit, maybe you have a great nautical theme in mind or something a little bit Parisian. It doesn't matter if it is a summer or winter outfit the main idea is to build up a lookbook with lots of different stripey looks.
Everyone who sends through a photo will be put into the draw to win a new stripey surprise to add to their wardrobe - just a little way of saying thank you for participating.
My email is timeaftertea (at) gmail (dot) com and if you can email me by the 24th February 2013 I will put the photos up that week. Oh and include your blog address if you have one so I can link your photo. I c
annot wait to see the outfits people come up with!
Here are few of my favourite 'stripey outfits' from the blog 1/2/3.