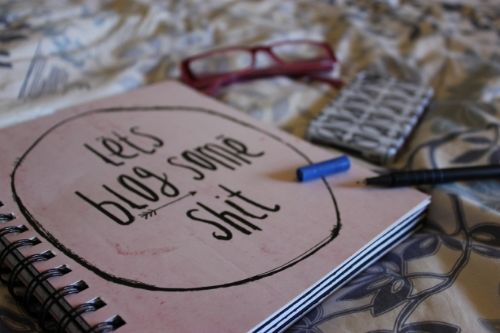 Lately I have been feeling a little bit apathetic towards blogging. Blogging is a hobby for me and like any hobby you want to feel like you are getting better at what you do - I mean if you take up running you want to eventually be able to run faster and further right? For me I feel like I am doing the same thing over and over and not necessarily pushing myself or trying to do something new.
I have also been finding it hard to "keep up" with the blogging world lately. I really want to comment on all the blogs I enjoy and reply to the comments I get but sometimes by the time you take photos and write a post you kind of just want to turn the computer off.
I know that everyone says you shouldn't compare yourself to other bloggers but sometimes it can be hard not too, especially when you are already feeling a little down about the whole blogging thing. I found myself comparing myself to other bloggers thinking that my photos weren't good enough, my posts weren't interesting or I just wasn't consistent enough. If lots of people are doing this whole blogging thing a lot better then me, then is there much point doing it?
Last week I was also feeling really run down, not very well and generally a little bit overwhelmed by everything plus the stress of starting a new job this week added to my overall feeling of wanting to quit life for a week and hang out under my doona.
I decided that something had to give and that I just had to not worry about blogging for a week. I barely turned my computer on all week - it was really nice. I didn't worry about whether I should photograph an outfit or about the fact that I didn't have anything to post about- it was really refreshing. It nearly made me think I should just give up all together.
Today I woke up and I really felt like blogging (I think that means the idea of giving it all up completely was fleeting) and decided that if I wasn't happy with the way things were going it was easy enough to change.
I decided that I only want to publish posts that I 100% love. That might not necessarily mean the photos are perfect or the content fascinating but it needs to be something that I am happy to have representing me.
I also decided that I will reply to all comments on my blog with the reply button. I will always still try and comment on everyone's blogs but for those busy times it still means every comment gets a response.
I also decided to have a rough schedule, I really like the idea of being consistent (just like training sessions for a runner) so will hopefully be posting more reguarly and consistently depending on how I go with the schedule.
I am also hoping to broaden my content - outfits are fun but that's really only one aspect of my life. I want to share more about my life and opinions; what I read, do, eat, watch and all the rest of it.
Anyway this post is a little bit of a ramble but I thought it was a good place to start with a new outlook and hopefully a new way of doing things!
If you have ever felt the same way about this whole crazy blogging thing I would love to hear how you turned things around...