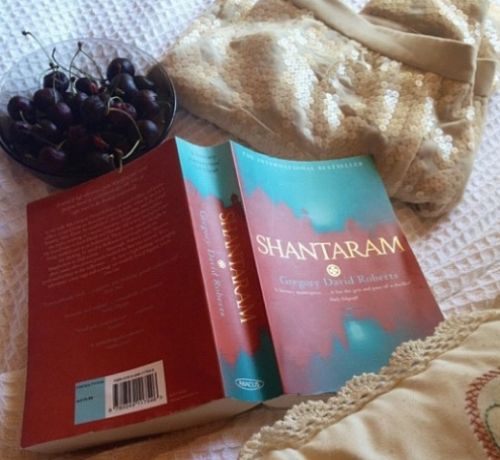 Now I have to be honest, I didn't finish this book so this really is not a complete book review. Can I even call it a book review if I failed to finish the book? Probably not but let's just go with it. So many people recommended this book to me, in addition to that a lot of people said it was their favourite book of all time, this of course made me really excited to read this book.
Shantaram is set mainly in India and follows the journey of the main character Lindsay who has escaped from a high security Australian prison after being convicted for armed robbery. Lindsay is now trying to live a life unnoticed by authorities in India.
The

novel is influenced by real events in the life of the author.
I have always been intrigued with India so was looking forward to that being the setting for the story. I began reading and was immediately drawn in, the writing style completely immersed me into the main characters world. I enjoyed the honest and humble character of Prabaker and the sense of never knowing what was going to happen next.
But then I couldn't keep up with all the characters that were introduced, maybe because the names were foreign or just because there were so many characters that, I was constantly having to go back and forth to try and remember who was who. I would also forget details of the storyline due to their sheer volume. Eventually I began to feel weighed down by the details and found myself skipping chuncks of writing in an effort to just get through the book.
Six months later (yup I tried to read it for six months and only got just past half way) I gave up. I thought I would never read another book if I kept persisting with something I just wasn't enjoying. Most of the time I am loathe to give up on a book and get all determined to make it to the end even if I don't love it, but Shantaram well and truly beat me. Sometimes you just have to know when to cut your losses.
The book really does have an amazing story line and vivid details - even though I couldn't finish it I would still recommend it on the basis that some people really love that style of writing and will plough through the book easily, it is just not for everyone, including me.
Have you read Shantaram - did you love it or did it beat you too? Do you give up on books if you don't like them or do you stick with it to the end?