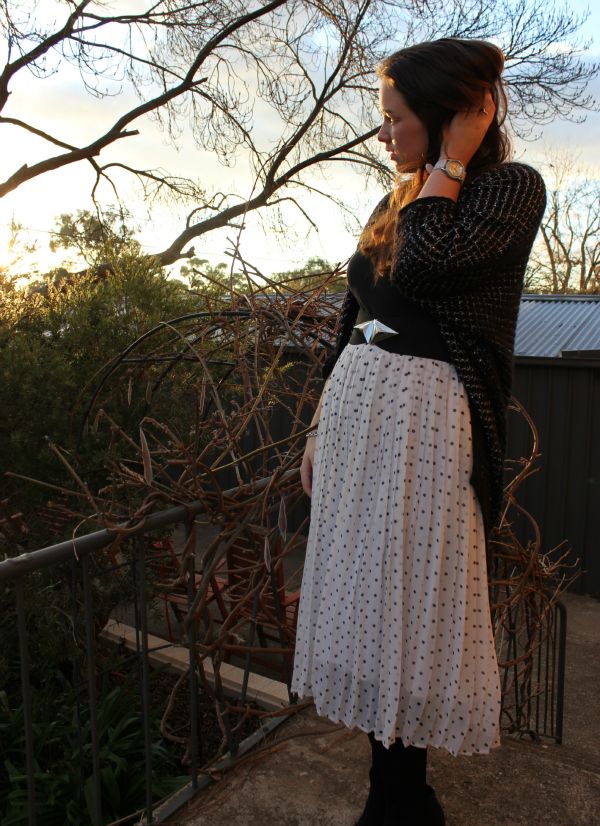 shoes: target // skirt : quirky circus // cardigan: fang // belt: betsey johnson // watch: fossil
This weekend was really quiet, so quiet I was easily in bed by 10.30pm every night. Not that I am complaining, its nice to have relaxed weekends every once and awhile, one with no plans so you can have spontaneous brunch dates, long hot baths and tend to a guy with man flu. I did also enjoy a yummy Italian potluck dinner with friends on Saturday night to which I contributed a
Nigella Nutella cake
which was all sorts of out of control as you can imagine a whole jar of nutella and block of dark chocolate would be!
I bought this cardigan last weekend when I was at home from a local boutique,
Iglou
. They had a huge winter sale on so my timing was perfect. I have already worn the cardigan three times! I love the way it falls as it is gathered at the sides making it a really flattering fit. I also love the sparkles throughout it, they are hard to capture in photos but glimmer in certain light.
This is my last purchase for a little while, hopefully 10 weeks, as we are going to Melbourne for a wedding in September and I am going to try and save my pennies until then plus flights from Canberra to Melbourne are ridiculous, bring back Tiger I say. I currently have a love/hate relationship with my wardrobe so hopefully this ban makes me utilise and re-purpose the things I already have and think about my purchases a little more in the future.