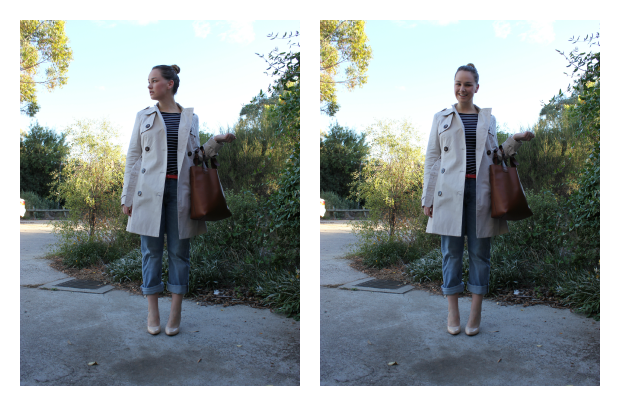 coat: target // shoes: jo mercer // jeans: jeanswest // belt: forever new // top: kmart // bag: tressle
At the start of Autumn I decided that my wardrobe was missing two essential pieces a trench coat and a pair of boyfriend jeans and four months later I have definitely got my fair share of wear out of these two items, especially paired together. I searched for the trench for week and was beginning to think I was going to have to save up a small fortune for one I actually liked until I stumbled on this one in Target on sale for $60, another reason why I love the red spot boutique. However this was the last time I wore this top as straight after this I accidentally put it in the wash with orange towels that hadn't been washed before, my white stripes are now tie-dyed orange.
This weekend we headed home to celebrate Brendan's 'birthday, his cousin's 21st and his gorgeous little nieces 1st birthday. It was really nice to be surrounded by family, even though our families are only three hours away (and my sister five) I still miss having them close by, and the feeling only seems to get stronger the older I get but for now busy, crazy, fun weekends with them will have to see us through.