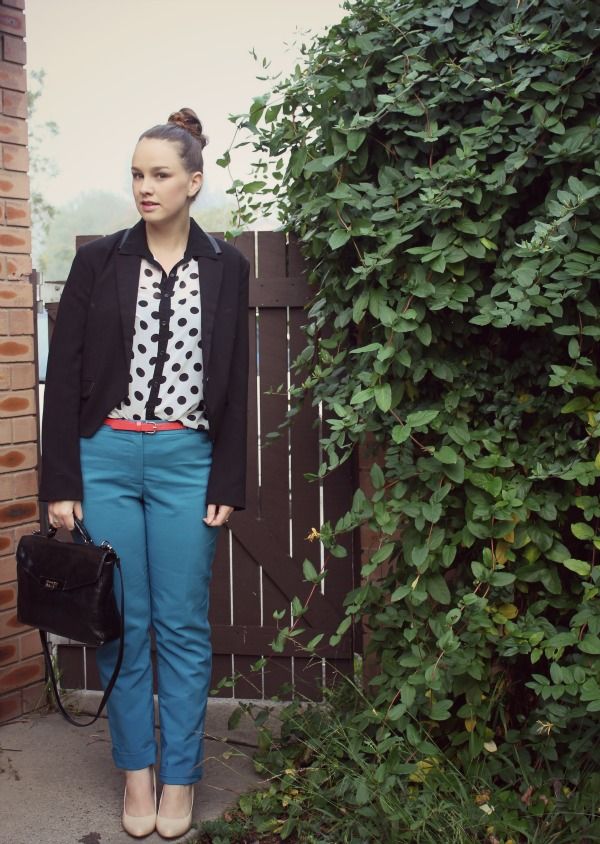 shoes:: jo mercer // pants :: target // belt:: forever new // shirt :: dotti // blazer :: portmans // handbag :: thrifted
Every time I wear these pants I am instantly reminded of George Jetson or Homer Simpson, something I didn't think about when I bought them but I seriously think about it a few times a day when I am wearing them. It can be a little unnerving feeling like a cartoon character all day, kind of fun though and its hard not to be happy when you're wearing pants this bright.
This week has been pretty cold and miserable which seems to make me tired which means I have been in bed at like 9.30pm every night. Maybe I am just getting old but if I don't get my eight hours sleep I feel like a zombie the next day. A lady at work told me I need to enjoy sleep before I have children to keep me up all the time. I seriously don't know how mums and dads do it, sometimes I get home from work and can barely get off the lounge let alone look after other little humans. Wow talk about rambling it is nearly 9.45pm, past my bedtime!
On a final note I am conducting a little
survey
about my blog to help me figure out what direction I am going in and also just to get some general feedback, I have been doing this for so long now its always nice to see how you're tracking. If you don't mind taking the survey the
link is here
, it only takes two minutes - thanks in advance!