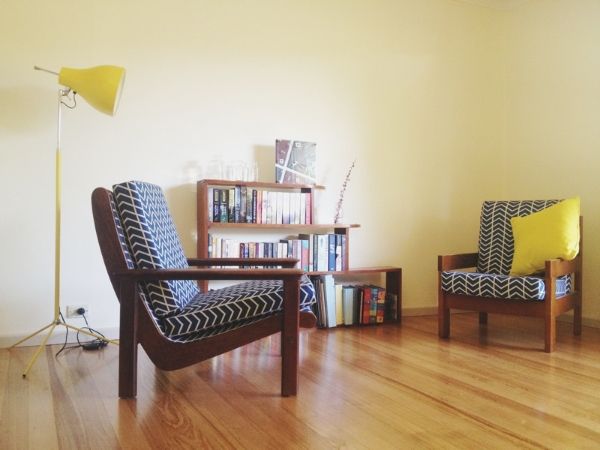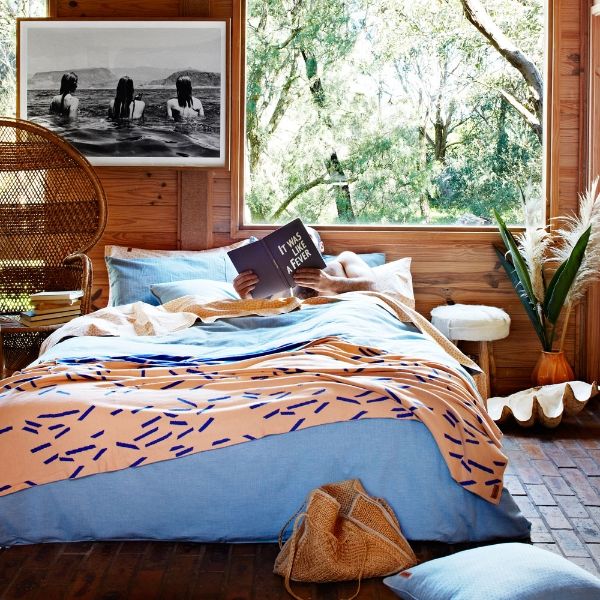 yellow lamp and small bottles :: freedom // chairs :: vintage, reupholstered by Tango and James // bookshelf :: vintage // elephant print & swinging chair :: jumbled // bedding :: kip & co
All photos are taken by me, except for the last photo which is from the Kip & Co website.
I am having so much fun decorating our new home but it really is a lessen in patience as it appears I have champagne taste on a beer budget. So I am slowly figuring out what I want/like and lay-bying one thing at a time, paying it off and starting on the next. I am also mixing this with vintage/second hand pieces where I can - like the bookshelf in the background that my grandfather made 50 years ago or the bar cart in my garage that is waiting for a coat of new paint.
My favourite thing that has entered our space is these vintage chairs that were reupholstered by Lisa from
Tango and James
. These lounges are in our dining room as I am trying to create a space that people can retire to after dinner to have a drink and chat or a quiet corner to read in during the day. The bar cart will also go in this space and I am thinking of painting it a pearly white - what do you think?
So what is on my wishlist? Well I am so torn about having a hanging chair, I have fears of someone sitting in it and the roof completely collapsing on them, but I really love how they look. The one pictured above is from one of my favourite homewares stores
Jumbled
. The elephant print is also from there and was drawn by Andrew Howells who studied elephants at Taronga zoo for a number of years - I am hoping to have this hanging above our bed one day.
Finally I am just hanging out for some Kip and Co bedding (family if you are reading this my birthday isn't far away). I love each and every design but think the lighter colours are a little more relaxing for the bedroom - I am still kicking myself for not grabbing something in their end of autumn/winter sale - hoping they will do the same thing at the end of Summer.
As you can see any method to my decorating that I thought I might have when I wrote
this post
in July has completely flown out the window and I am kind of getting things as I find them and hopefully one day (probably ten years from now) it will all come together!
What are your fave homeware stores? Is there any homey things on your wishlist?